I went to china to so my friend could eat small creatures on-a-stick
(PARENTAL DISCRETION IS ADVISED! The images contained within may not only give you an appetite for un-culinary creatures on a stick, you may become hungry rather than frightened during the "crunchy" scenes in Raiders of the Lost Ark.)
My wife and I, and my good friend Ben went on a trip to China/Taiwan Oct 19-Nov 4, 2008.  Ben practically kidnapped us to go along with this wild scheme because he needed witnesses.  (Secretly, I think what he really wanted was someone to rush him to the hospital in case his gourmet experienced turned bad.)  We started out in Beijing.
I went along with his wild scheme after threats of black mail, plus I could see what I didn't get right after working on my yet-to-be-published short story, "Katie Fang", who is a regular at a Beijing Bar and Washiteria.
Since this occurred post Olympics, we got to see the new shiny dragon-back airport, and Olympic stadiums without dealing with crowds of Westerners.  😉  After all, when one is in China, one should see the natives doing their usuals rather than while they are stressed by Olympic craziness in dealing with bunches of Westerners.  Though if that is what you want, then that's cool too.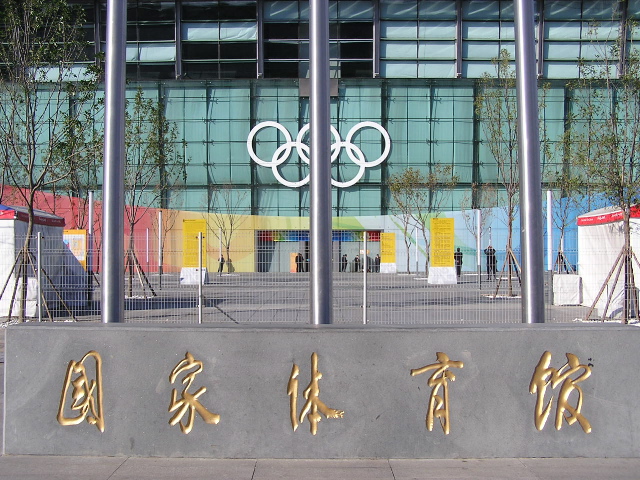 Throughout the day, the weather looked hazy.  I wasn't sure if it was from the fog or bad air.  It got even worse at night and you could almost see the particulates, like tiny snow, passing by the lights.
We took the subway from the hotel to "long peace street."  Nearby is a walking mall with Cartier watches and all kinds of other high end mall stores.  We ate in a restaurant and then went to a nearby night market where Ben's big feed was to happen.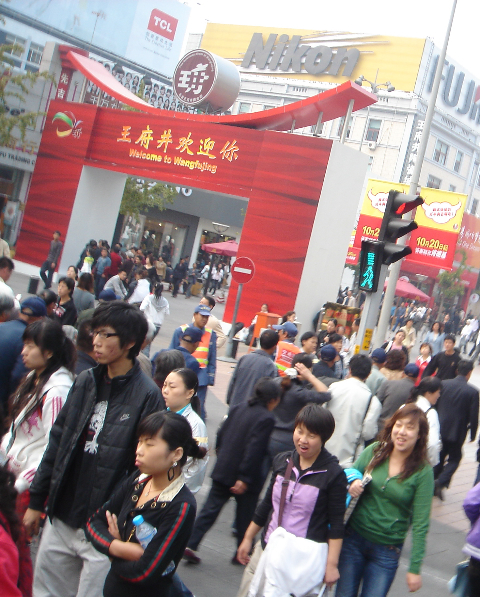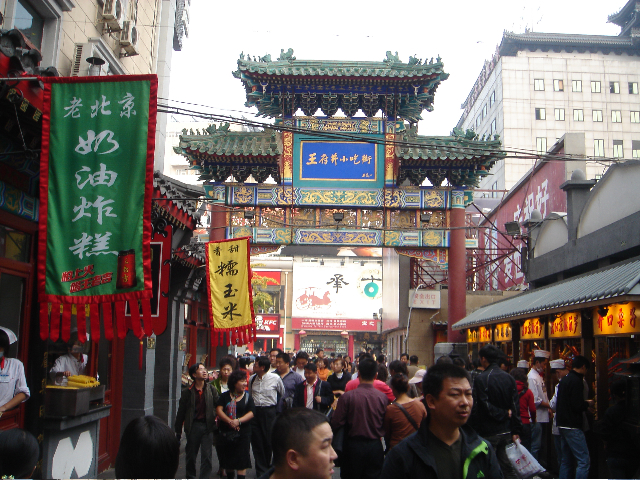 A tip for those who are going to eat creatures on a stick:  don't walk up to the first stall you see that features squirming creatures, you'll likely pay an extra 20rmb (the currency of the Peoples Republic of China).  Walk further into the mall away from the entrance.  After all, you'd hate to pay the extra $1-2 after flying all the way to China.  Note how crowded the night market is.  I expect that roughly 95% of the people there are groupies hanging with their more daring friends, hoping that they can convince their friend with a food-on-a-stick fetish into eating something bizarre.
So Ben, being a money conscious consumer, shopped around until he found the best buy, and I being a supportive friend, tried to raise the ante whenever possible by pointing out that he should purchase a "sampler" rather than just go scorpion.  But I don't think Ben liked the look of those fat slug looking creatures in the above picture and to the right.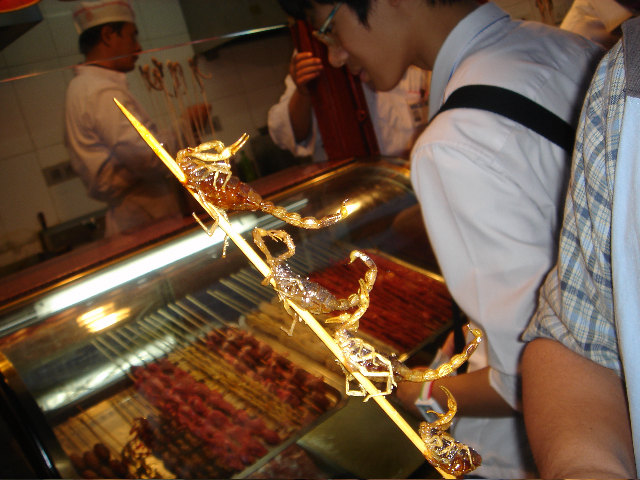 The chef seen in the background dipped the stick into the deep fat fryer.  Apparently, scorpion is prepared the same way as Kentucky Fried Chicken.
Ben says scorpion tastes surprisingly like potato chips.  Interesting . . .  Cooking chitin in oil is like Lay's potato chips.
He ate the whole stick of scorpions!  He likes it!  He really, really likes it!
Conclusion:  When you go to China, bring along someone who will eat weird stuff and you will have endless entertainment.
The next posting: China geek tour!